A Remote Work Model Can Have a Greater Positive Impact on Your Mission
The National Council of Teachers of English (NCTE) are committed to their members and their mission. A part of that commitment was making an intentional, deliberate strategy to move their workforce to a remote one in 2018.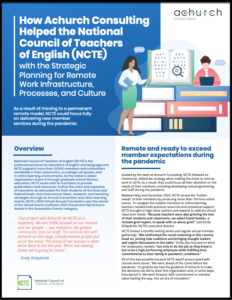 As a result of their forward thinking, they could focus all their attention on the needs of their members, including developing new programming, and staff during the pandemic.
Our case study, How Achurch Consulting Helped the National Council of Teachers of English with their Strategic Planning for Remote Work Infrastructure, Processes, and Culture, outlines their thought process and the successes they've realized operating as a remote workforce.  
According to Emily Kirkpatrick, NCTE's Executive Director, "It's a false idea that challenges of culture only exist in remote workplaces; it exists in offices too. You must be committed, as we are, to continuous improvement in culture. You must invest in culture and your people on an ongoing basis. You lead, you listen, and you adjust."
Read our case study to see how Achurch Consulting helped NCTE maximize their investment in their culture and people.