Get Your Copy of the Meaningful Meeting Mindset™ Flowchart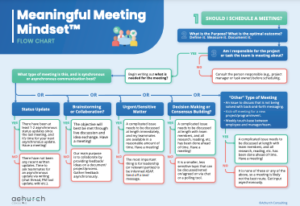 This flowchart gives users guidelines for launching a meeting. Are you looking for a:
Status Update
Weekly Update
Brainstorm session
OR MORE...?
Complete the form on this page to get your complimentary copy of the flowchart that has tips for figuring out if launching a meeting really is your best course of action or if you can get the information you need in other ways.