GET YOUR FREE COPY OF THE FULL SURVEY REPORT
What will associations look like post-pandemic?  That's the heart of what we and Association TRENDS recently asked over 350 senior association leaders. The answers are even more relevant now that our collective 18-month Work From Home (WFH) experiment is extending again for COVID.   
What we learned is eye opening! What began essentially as a two-week WFH experiment has evolved into a flexible, WFH revolution. Don't believe it?
96% of associations plan to include remote work into their future workforce model. 
79% of associations are planning on/considering a hybrid or fully remote workforce. 
65% of associations added or updated their remote work plans in the last year. 
AND MORE!
To get your complimentary copy of the survey report complete with insights and the full results, Please complete the form on this page.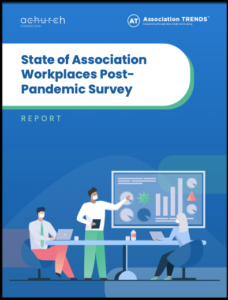 NOTE: All survey participants will automatically receive a copy of the report and do not need to complete this form.