WEBINAR ON DEMAND PRESENTATION
Because so many organizations have had to adapt so quickly in such a short amount of time to working remotely, we were asked by Altai Systems to create the webinar: Tips to Help your Association Work BETTER Virtually with them.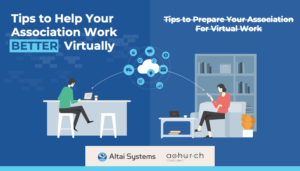 We are a company that has experience working directly with associations to move their processes online while also assisting management in making that transition a smooth one. Our webinar provided practical tips and best practices to those who are new to remote working as well as those who may have been working virtually for a longer time. We covered topics such as:
Pillars for Success
Managing Expectations as a Leader
Informal & Formal Communication Tips
AND MORE!
If you are interested in viewing the presentation, please complete the form to receive your direct link to view the recording of this timely and informative webinar.