Achurch Approach to Remote Workforce Consulting Services
We started our Remote Work Consulting services in response to seeing our clients and others struggling with distributed teams. We observed teams trying to apply the same rules and practices for remote/distributed work they did with in-person management. We knew that with our collective backgrounds and expertise in systems and process design, legal and operational management, and assessment and curriculum development, we could help organizations design successful workforces, regardless of their employees' location. In short, we help organizations institute effective, research-based methods to facilitate remote work.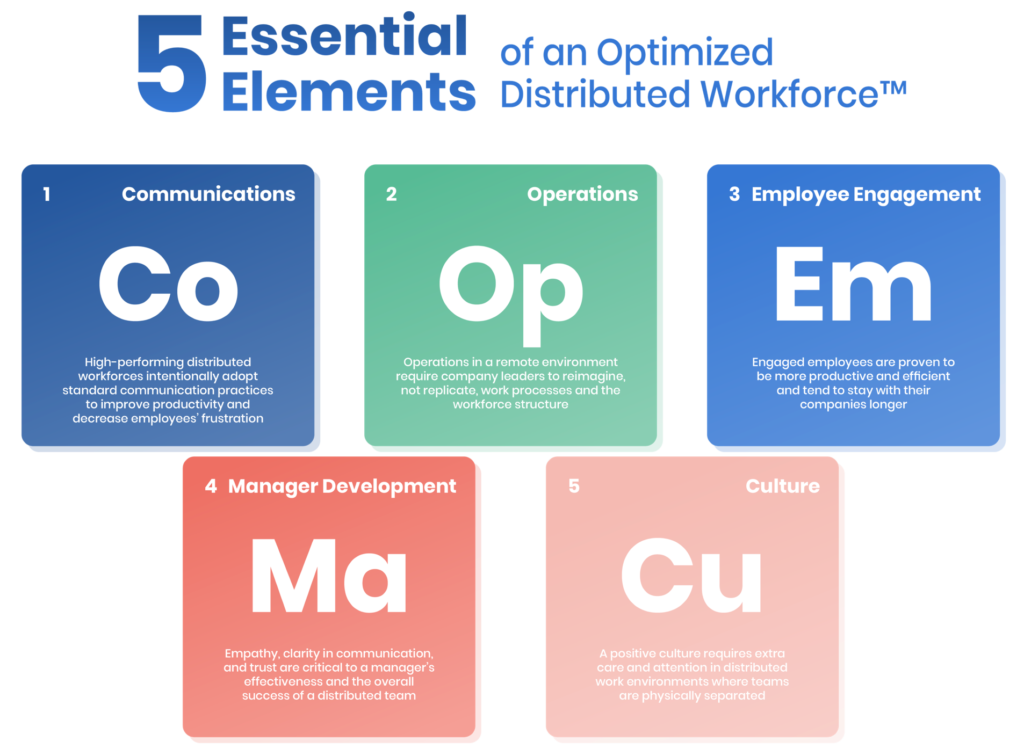 Each element is essential to address individually so that when placed together, your organization has a cohesive structure that encourages trust, accountability, and productivity organization-wide.
While we have a standard process and structure for each project, we base our approach and recommendations on our clients' unique situations, cultures, and needs. We don't just check boxes on a list - we get to know your team and create the checklist together of your organization's needs.
Steps to Remote Workforce Optimization
Achurch has a proven process for helping organizations create the foundation necessary for a successful transformation to a fully remote workforce or customized hybrid model. We do this by implementing the processes essential for remote operations, the curriculum needed for the successful management of teams, and providing the necessary staff training to make a successful transition to the new model of work.
The following is an outline of our Key Steps to fully optimizing a transition to a Distributed Workforce.
STEP 1: Assessment and Evaluation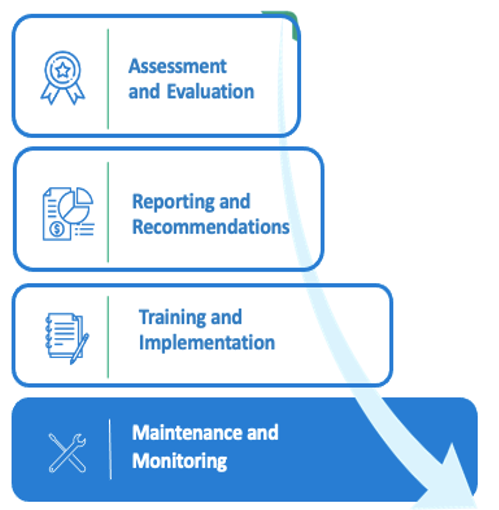 Achurch will complete an assessment and evaluation through one or all of the following:
One-on-one interviews
Group interviews
The completion of a comprehensive survey completed by all leadership and staff.
This phase is of critical importance as it lays the groundwork not only for the subsequent optional phases but also for the future of work throughout the entire organization for years to come. It helps to identify the culture, as well as strengths and weaknesses in communication, accountability, management, policies, and overall employee well-being.
STEP 2: Reporting and Recommendations
The Assessment will serve as the foundation for developing the precise methodology for evaluating your organization's risks and opportunity areas for creating a distributed workforce.
Achurch will make specific recommendations on the best remote workforce model to meet the needs of your leadership, staff, and customers
Included in our customized report will be a list of favorable trends "Tailwinds" and challenges "Headwinds" the organization will face
Our recommendations (Plan of Action) will incorporate existing and future training topics
STEP 3: Training and Implementation
We can provide a series of guides, webinars, reference sheets, training sessions, and tips on each topic uncovered in the Assessment and Evaluation and agreed up training
The communication module is the "base" of our offering and includes comprehensive content detailing what employees need to know to be proficient while communicating in the virtual workplace
We can support the direct implementation of workplace tools, train on virtual working protocols, document management, and software
 STEP 4: Maintenance/Monitoring and Ongoing Evaluation
Adoption is key to any successful roll-out of new working protocols and workplace tools. Feedback after the introduction will enable adjustments in processes to fit your organization better and increase participation rates across your employee base. Achurch can help maintain and monitor your workforce as often as you need in a variety of ways including ongoing lunch and learns, electronic check-ins, interviews, micro surveys, and more!
Want to learn more about how to optimize your distributed workforce?
Contact us to schedule your Assessment or get more information.