Measuring Your Team's "Pulse"
Transitioning from an in-person environment to a hybrid or fully remote workforce is a HUGE change for most folks. While some may welcome the transition, others may be struggling. Getting a thorough and targeted understanding of the readiness and/or current "health" of your remote workforce is a critical step to ensure long term success.
To help you measure your team's "remote pulse" and operationally measure the readiness or sustainability of your workforce structure (e.g., Are the right systems in place? Do people have what they need to work remotely? Are you legally protected? etc.), we have created a comprehensive Assessment.
Going beyond a basic employee satisfaction survey, our Assessment helps leaders understand your workforce's strengths and gaps through the lens of the 5 Essential Elements of an Optimized Distributed Workforce™: Communication, Operations, Manager Development, Employee Engagement, and Culture.
The results and targeted recommendations you receive will help you understand what is working well, what presents a risk, and what short- and long-term steps will get you to an optimized distributed workforce.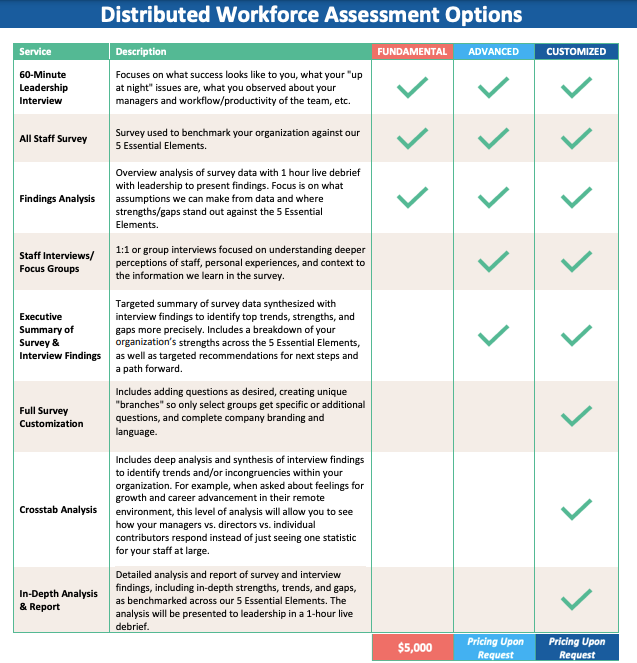 Our Fundamental Assessment give you a lot of bang for your buck! It supplies leaders with data that gives them significant insight into their team's operations and culture as it relates to working in a  distributed work environment.
Leadership Interview
We start by talking with your leadership to get a 10,000 ft. view of topics such as:  
What does a successful remote transition look and feel like to you?  
What are your "up at night" issues? 
How have you observed about your managers during this change?  
What have you observed in your team's productivity? 
What about your team and culture do you want to preserve?  
And more! 
Quantitative Survey
The next step is administering a comprehensive survey to all staff members. The questions address a variety of topics through the lens of the 5 Essential Elements, and provide insights into your employees': 
Workdays and productivity 
Understanding of remote policies 
Communication practices and barriers  
Onboarding experiences 
Direct report and manager dynamics 
Culture and connectedness 
Tools and technology  
And more! 
NOTE: The survey is administered anonymously to ensure candor and honesty.
Findings Analysis
After completing the survey, Achurch will compile the data and conduct an analysis of the survey data and provide leaders with a 1-hour interactive debrief of our findings. We will focus on what assumptions we can make from the data and where strengths/gaps stand out against the 5 Essential Elements of an Optimized Distributed Workforce™.
Deeper Assessment Options
The Fundamental Assessment offers you a baseline insight into your team, but if you would like deeper insights, we have you covered.
Advanced Assessment
The Advanced Assessment takes you a step deeper. In addition to the Leadership Interview, Survey, and Analysis, we also offer 1:1 or group interviews of your staff members to: 
Gain a deeper understanding of your staff's perceptions, experiences, preferences, and needs

 

Gain valuable context to the information we learn in the survey (i.e., answering the "why" behind some of the answers we get in the survey) 

 
This will inform the Findings Analysis and allow us to give you more thorough data and recommendations.  
Customized Assessment
The Customized Assessment gives you the BIGGEST bang for your buck! It allows us to become an extension of your workforce making targeted, action-oriented recommendations for your best path forward. Our in-depth analysis helps you figure out "where to go next" and gives you the data necessary to make informed decisions about your workforce model for the future. It includes: 
Full Survey Customization

 - You can add questions and language specific to your organization, create unique "branches" so only select groups get specific or additional questions, and opt for complete organizational branding.

 

Crosstab Analysis

 – 

Allows our team to analyze the survey data deeply, explore potential trends amongst various subgroups, and synthesize interview findings into the data.

 

All of this helps us identify trends and/or incongruencies within your organization.

 

Detailed Recommendations & Reporting

 – Similar to our other assessment options, your leadership will participate in an interactive reporting session highlighting key findings. Additionally, you will receive a formal report with targeted recommendations, including in-depth strengths, trends, and gaps, as benchmarked across our 

5 Essential Elements of an Optimized Distributed Workforce™

. 

This report provides significantly more detail and context to the graphs shared in the interactive report PowerPoint and serves as a valuable "leave behind" tool that you can share with staff, board members, and other stakeholders. 

 
Ready to find out more?
Contact us for pricing and to schedule your Assessment today.